The Return of Traxtor
This is a version of my original game for ZX Spectrum 48K (The Return of Traxtor) for the IBM PC/XT (or later) running DOS.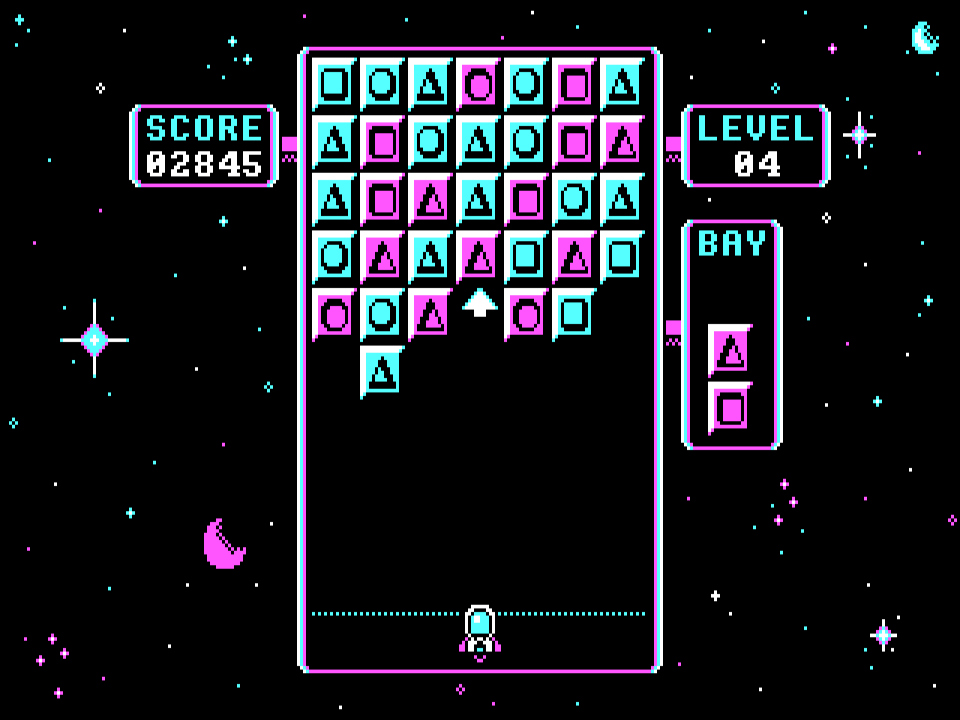 1000 years have passed since the last war, when Traxtor saved us.
With the legend now long gone, this is a story of its legacy…
It was developed to be submitted to the DOS COM Game Jam of September 2023 –the game is a COM file–.
My first PC was an Olivetti Prodest PC1 with 512K of RAM and a powerful NEC V40 CPU (80188 compatible), with an integrated CGA card and a nice RGB monitor. With this game I wanted to make a competent port of my "Return of Traxtor" game that feels like the early PC games that I played back then!
Minimal requirements
MS/DOS or compatible
IBM PC/XT (8086 or better)
CGA graphics
PC Speaker
Controls
| Keyboard | Action |
| --- | --- |
| Cursor left | move spaceship to the left |
| Cursor right | move spaceship to the right |
| Cursor down | beam a block into the bay |
| Cursor up or space | fire the top-most block from the bay |
P: pause/resume the game
ESC: abandon the game / back to DOS
How to Play
Use the tractor beam to move blocks into the bay, and fire to throw back the top-most block to the board.
Match 3 or more blocks to destroy them before they reach to your defence line.
Wildcard blocks can be thrown to any block type and they will turn into that type.
There are 25 levels!
Tips & Tricks
You can throw more blocks into already exploding blocks and if the colour matches, it'll score extra and will help you to get faster to the next level.
When a block is not attached to the top of the playing area or to another block, it will fall. You can use that to help you to clear the board!
When the board is cleared, you'll get extra bonus points and immediately level up.
Every 5 levels, the blocks' speed will slow down a bit.
Downloads
Latest release (1.0, 2023-09-14): traxtor.zip
If you like the game, a coffee is greatly appreciated!
If you don't have a machine running DOS, you can still play it in dosbox.