20 years ago I decided that I wanted a stable identity on the Internet. I had used free email accounts and web hosting for a few years but, specially the web hosting, was fragile and could change any time. Besides I had seen in my main email account at RocketMail that free services could change in ways we don't like –RocketMail was acquired by Yahoo!–.
So it was time. I wanted to have a website that didn't change, without ads, that depended solely on myself. I asked a couple of friends if they wanted to be part of it, I guess a bit in the tilde spirit.
They didn't really care, and I can't remember if they ever contributed any money to help with the costs, but this is how the website looked on the first day (in perfect Spanish!).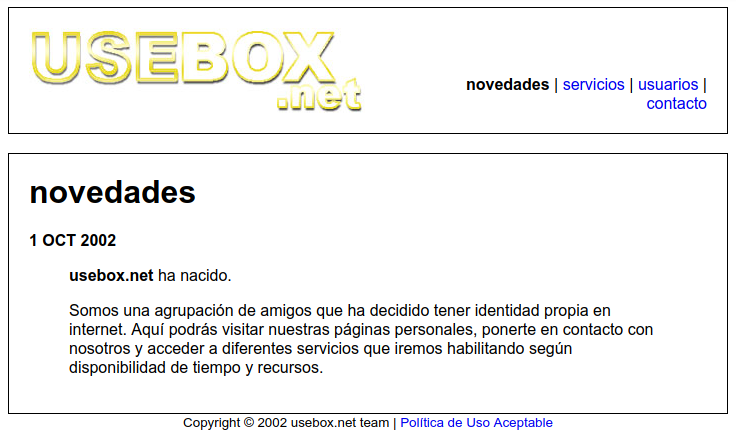 Later on some more friends had email on the server –for a while, at least–, and the services have been online since then. It all started with an hosted service in Arsys, then a small server in OVH –can't remember if it was a VPS–, then a miniserver in Memset –just a VPS with Xen–, and today a droplet in Digital Ocean –just call it VPS already!–.
At some point there was even sub-domains, like the old blackshell.usebox.net, where I hosted my personal weblog in Spanish, but the main website had different uses over the years. At some point it was my business card for my freelance job, but at the end is just a redirection to my personal website; because that is what usebox.net is basically.
My infrastructure has grown a bit in 20 years, and the prices have gone down. Never has been this easy –and cheap– to have a personal server on the Internet, yet every time some business ask you for your email on the phone there is surprise because it isn't an email address on one of the big providers.
Anyway, here we are and hopefully here we go for another 20!