Gold Mine Run!
This is a DOS game for i386 or later.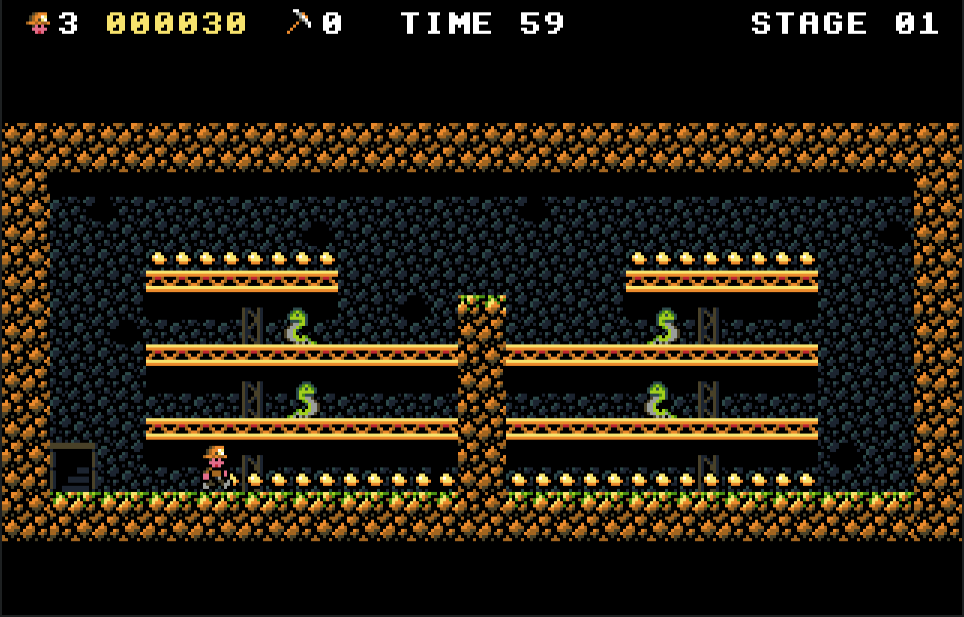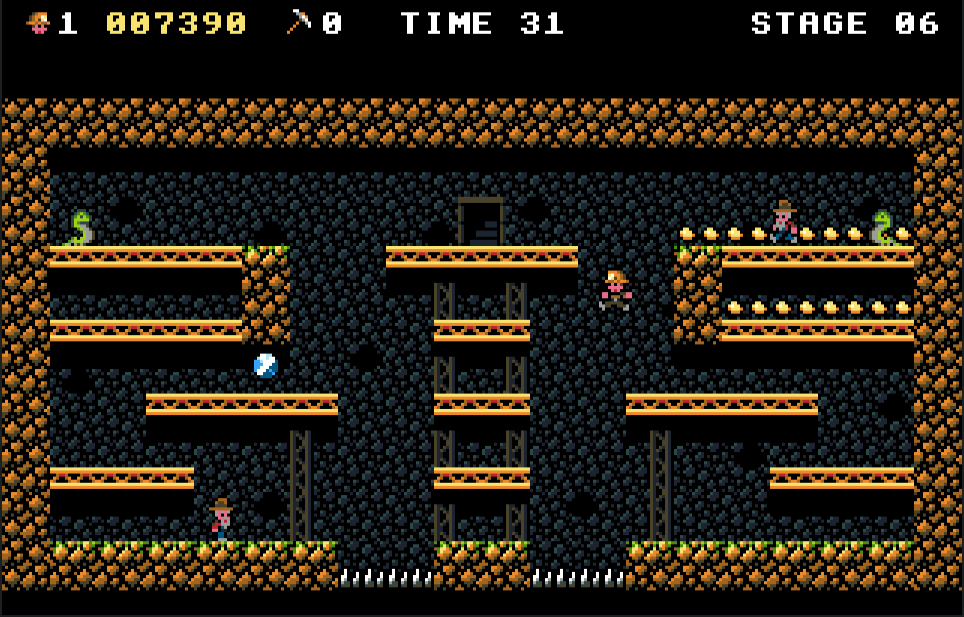 Gold Mine Run! is a single screen arcade platformer in the vibe of classic arcade games from the 80s.
It was originally developed to be submitted to the DOS Game Jam of June 2023, and its development was streamed on Twitch. The source code of the game is available: Gold Mine Run!.
The game's design was strongly influenced by Night Knight for the MSX by the same author.
Minimal requirements
MS/DOS or compatible
386DX 33MHz (requires protected mode)
VGA graphics
Sound Blaster (ideally, no sound is also supported)
at least 4MB of RAM
How to Play
Collect all the gold on a stage to move to the next one. There are 30 stages.
You have 60 seconds to complete each stage, or the time monster will appear and chase you until you either complete the stage or it kills you!
There are some special pick-ups:
Bonus gems: add 250 points to your score.
Extra time: reset the clock to 60 seconds.
Pickaxe: protect you from one hit, by enemies or mine hazards like the spikes.
Silver key: open doors with a silver lock.
Gold key: open doors with a golden lock.
Every 10,000 points you will get an extra life.
Controls
| Key | Joystick | Action |
| --- | --- | --- |
| Cursor left | Joystick left | Move left |
| Cursor right | Joystick right | Move Right |
| Z | Button 1 | Jump |
| P | - | Pause / resume game |
| ESC | - | Abandon / exit the game |
Check -h CLI flag for options.
Downloads
Latest release (1.6, 2023-08-19): gminer.zip
If you like the game, a coffee is greatly appreciated!
If you don't have a machine running DOS, you can still play it in dosbox.