Crash was a British magazine specialised on the ZX Spectrum home computer, that run from February 1984 to April 1992.
There were a healthy number of magazines back then, and the speccy had very good coverage with several publications dedicated to it, but Crash was one of the most popular –if not the most!– in the UK.
Crash was already back with us, to some capacity, in the form of an annual. But more recently, the same publisher has launched a bi-monthly 60 pages publication in A5: Crash Magazine.
You can buy specific issues from the publisher's website, or subscribe via Patreon –that has the option for PDF as well–.
I've subscribed and read the first two numbers, and I like it very much.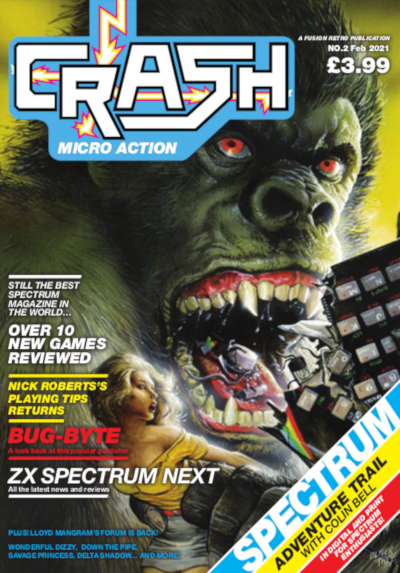 Looking at the last number (Feb 2021, using the cover of the second issue of the original Crash magazine!), there are three features (Cover crackers, Crash investigates and Crash back), three articles (Simon Buttler's screens, Dreamworld Poggie, Software house capers), all the regular sections (Editorial, Lloyd Mangram's Forum –reader letters–, Adventure trail, Nick Robert's playing tips, Preview and Sign off), and lots of reviews of new games!
I already liked the annuals (I have 2018 and 2019), and this new Crash keeps the good things, and builds on top of them in a shorter and more immediate format.
The reviews are nice and balanced –mostly notable games, why would you like to review a bad game when most of the new releases are free to download and play?–, with the right tone and attitude. The regular sections have a nice "back in the day" feel to them, and the articles are also a good read.
There is some coverage of the ZX Spectrum Next as well, that I must confess I've been mostly ignoring until now; and overall I can't find anything to improve. I couldn't enjoy the original magazine back in the day, but I've been flicking through its pages on archive.org, and this Crash Micro Action feels like a good spiritual successor.
Anyway, I know it sounds crazy that we can still play new games for our loved 8-bit machines, but I must confess that reading a new number of Crash in 2021 was totally unexpected!